WHAT'S ON AT ST JOHN'S PLACE
Book your community event or activity at SJP and we will advertise for you for free!!
Weekly events
Bemerton Live Fridays
Social coffee mornings with gentle exercise classes aimed at the over 55s, in the wonderful setting of St John's Place - try a new activity, meet new friends and stay mobile.
Doors open 10:30, class starts at 10:45. Everyone welcome. Coffee and biscuits after class.
Cost £5, first session is free, so why not give it a try?
The programme for December is given below and can be downloaded at this link.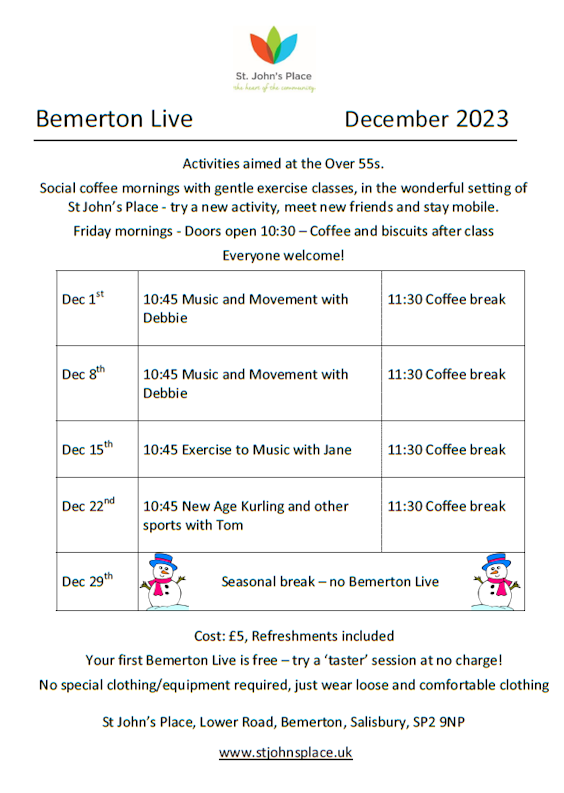 Monthly and one off Events

Saturday 2nd December 6pm - St Andrew's Road
Christmas Lights Switch On
Households across Lower Bemerton are invited to get into the Christmas spirit by putting up some lights, and once again residents of St Andrew's Road invite people to their count down and switch on of lights in St Andrew's Road on Saturday 2nd December at 6pm.
Festive music from 'The Salisbury Pluckers' Ukulele band and hot chocolate, mulled wine and mince pies available from 16 St Andrews Road.
Profits from the event go to St John's Place.
Sunday 10th December 10a.m.
Candlelit relaxing Soundbath
Soundbaths are a great way to switch off, reduce feelings of stress, anxiety or worry, calm the mind and feel relaxed: people often say they sleep well afterwards as well.
Booking now open for sessions with Gemma in St John's Place on 10th Dec at 10am and 22nd Dec 6.45pm.
Spaces are limited and no previous experience necessary.
For more info or to book your space please visit Gemma's website or call 01722 632155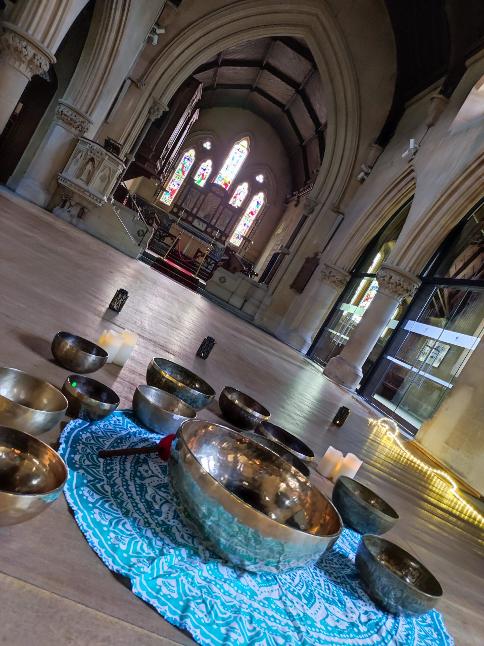 Wednesday 13th December, doors open 7:00pm, programme starts 7:30pm
Bemerton Film Society
???
USA - 1940 - U Certificate - 99 minutes
As is traditional, its a 'mystery' film for December - come along for a film which has been described as a 'delightful and light-hearted romantic comedy with a festive air'.
See the poster below, and (limited!) details about this film and more about the future programme are given in this flier.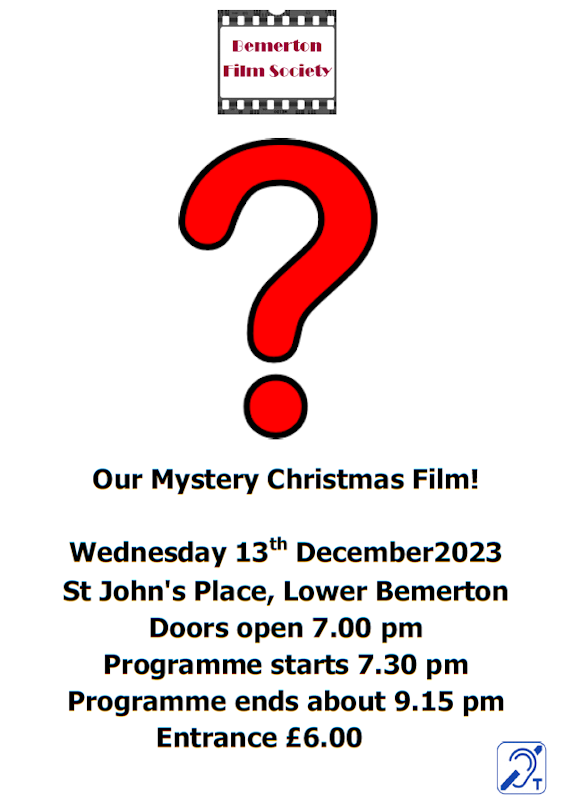 And coming up...
10th January Local Hero (PG Certificate)
An American oil company has plans for a new refinery in Scotland but when their agent arrives to buy up a whole village, he meets far more than he bargained for!
7th February ** special event ** Vermeer, the Greatest Exhibition (PG Certificate)
In spring 2023, the Rijksmuseum in Amsterdam opened its doors to the largest Vermeer exhibition in history. This film invites audiences to a private view of the exhibition, accompanied by the director of the Rijksmuseum and the curator of the show.
14th February Judy (12A Certificate)
It's 1968, and Judy Garland arrives in London on a sellout tour, the pressure on her to perform echoing flashbacks of her early years of stardom.
13th March Another Round (12A Certificate)
Four jaded high school teachers learn that a constant low blood alcohol level can be beneficial, so they decide to test it out and become permanently drunk.
Thursday December 14th doors open 5:30pm, concert starts 6:00pm
Christmas Concert
Allare welcome to the village Carol Concert, with music from children from Bemerton St John school and the Royal British Legion wind band as well as community carols. The '12 days of Christmas' is rumoured to be making a welcome return - join us from 5:30 for mulled wine, mince pies, hot chocolate and a Christmas raffle.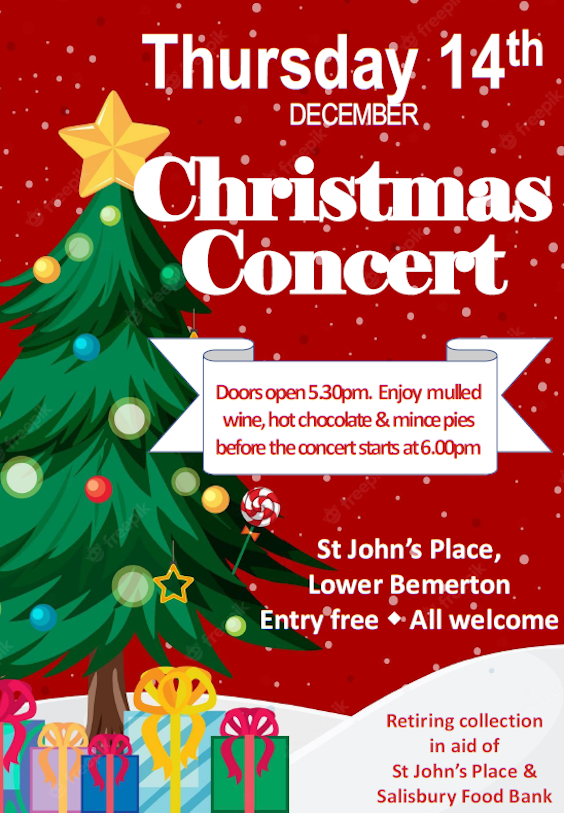 Friday December 15th 6:30 - 8:30pm
RETRO 60's - 80's DISCO

Join Fiona for a fun evening and dance through the sounds of Motown, pop, rock and soul! This will feature some of Fiona's favourites for this evening's dance. Or sit and socialise with tea and refreshments. For more information see Fiona's Facebook page or contact Fiona on fi@vitalimpact.co.uk or text 07803535431.
Friday December 22nd 6.45pm
Candlelit relaxing soundbath
Join Gemma for a pre-Christmas relaxing soundbath - more details under 10th December session above. No previous experience necessary, for more information or to make a booking visit Gemma's website, or call call 01722 632155