WHAT'S ON AT ST JOHN'S PLACE
Book your community event or activity at SJP and we will advertise for you for free!!
Weekly events
Bemerton Live Fridays, Doors open 10:30 a.m.
Join us for a gentle exercise class aimed at the over 50's, followed by coffee and chat. Doors open 10:30, exercise class at 10:45, cost £5.
Your first session at Bemerton Live is free, so why not give it a try?
The programme for February is given below, and the programme for Feb/March can be downloaded at this link.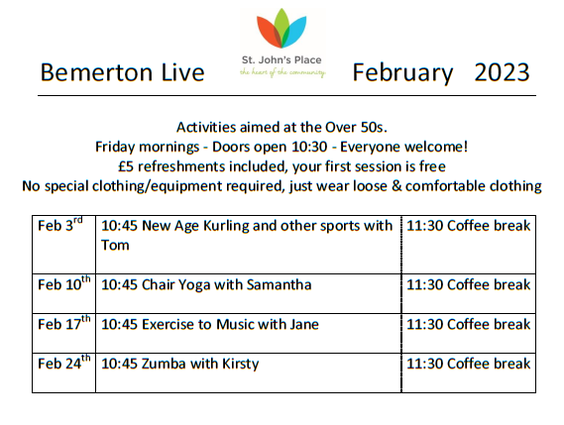 Monthly and one off Events
Wednesday 8th February, doors open 7:00pm, programme starts 7:30pm
Bemerton Film Society
The Duke
12A certificate, UK 2020, 96 mins
Comedy based on a true story. In 1961, 60-year-old Kempton Bunton stole Goya's portrait of the Duke of Wellington from the National Gallery. He sent ransom notes saying he would return the paining on condition that the Government invested more in care for the elderly. What happened next became the stuff of legend.
For further details see the poster below, and further details about this film and the future programme of films is on this flier.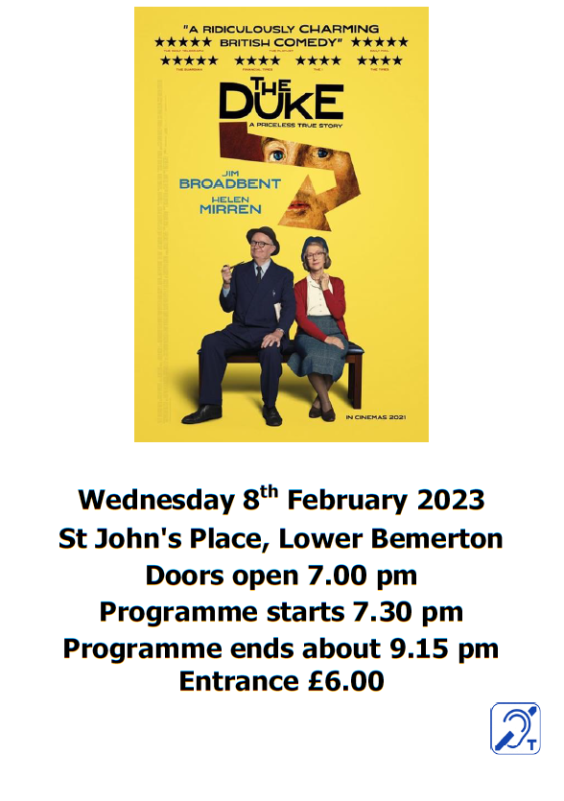 And coming shortly...
1st March Eric Ravilious: Drawn to War (PG certificate)
A special extra film showing : The first major feature film about Eric Ravilious (1903 - 1942), the much loved but hugely underestimated British Official War Artist killed in a plane crash over Iceland in 1942. For more details, including how to book tickets in advance, see details below.
8th March The Hedgehog (12A certificate)
Leisurely bittersweet drama. A serious, articulate and bored 11-year-old girl has decided to kill herself on her 12th birthday; but her life is changed when she befriends her building's intellectual concierge, a solitary woman who is more than what she seems.
Wednesday 15th February, Doors open 7:00pm, talks starts 7:30pm
Bemerton Talks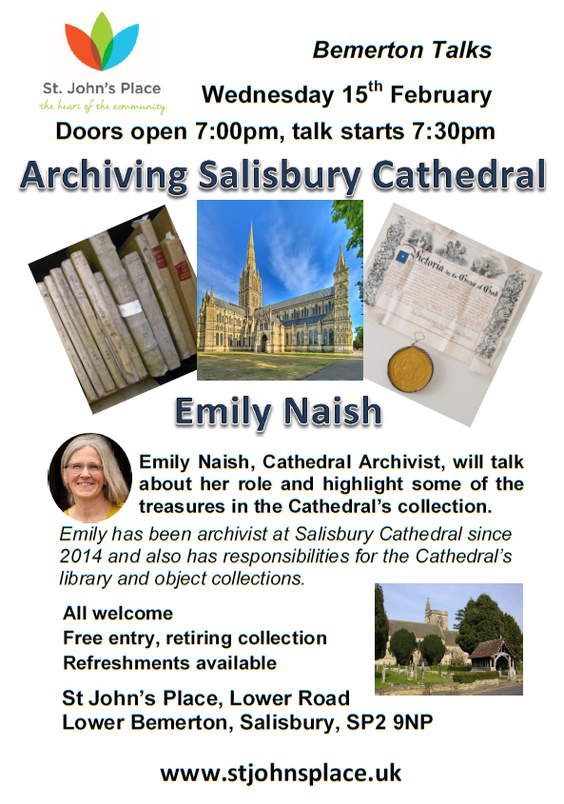 Wednesday 22nd February, 7:30 p.m. - 9:30 p.m.
Salisbury Military History Society
The Battle for Hill 107
with Colonel Robert Kershaw
See poster below. For more information about Salisbury Military History Society and forthcoming talks visit their website at https://salisburymilhist.com/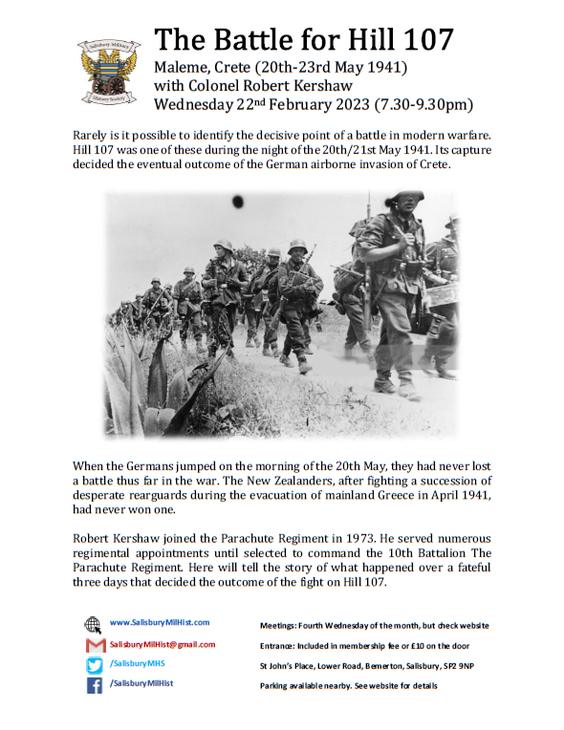 Wednesday 1st March, doors open 6:45, film starts at 7:30pm
Bemerton Film Society
Eric Ravilious: Drawn to War
UK-2022-87 Minutes-PG certificate
Tickets £10, available in advance via Eventbrite or on the door.
Hot and Cold snacks will be available from 6:45pm and are included in the ticket price. There will also be a cash bar.
See also poster below, and more information about this event is available on this flier.