WHAT'S ON AT ST JOHN'S PLACE
Book your community event or activity at SJP and we will advertise for you for free!!
Weekly events
Yoga with Louise Pitman, Friday 9:15 - 10:15am
This class is for all abilities, those new to yoga and those who have maybe previously practiced but not for a while or anyone wanting to bring some curiosity as we explore the poses more deeply. If you book for the month classes are £9 a week but if you cannot commit to the whole month you are more than welcome to come when you can, although booking is still essential and the cost of the drop in class is £11 a week. Please bring your own mat to maintain our COVID secure requirements.
Any questions or to book please contact Louise Pitman by email - louisepitmanyoga@gmail.com. Information about all Louise's classes is available on her website https://www.louisepitmanyoga.com/. Classes will restart on Friday 14th January.
Bemerton Live, Fridays, doors open 10:30 am
Join us for a gentle exercise class (or two) aimed at the over-55s, with a coffee break as well. Doors open 10:30, first class at 10:45, cost £5 for one class, £7 for two.
Bemerton Live will be restarting on Friday 7th January, see detailsbelow: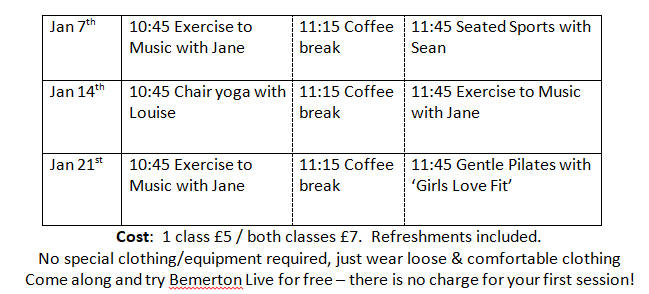 Monthly and one off Events
Wednesday 12th January
Bemerton Film Society
Doors open 19:00, programme starts 19:30
The Odd Couple
USA - 1967 - 101 minutes - PG certificate
Further details of this film, the forthcoming programme, and a full list of Covid restrictions which apply can be found on this flier.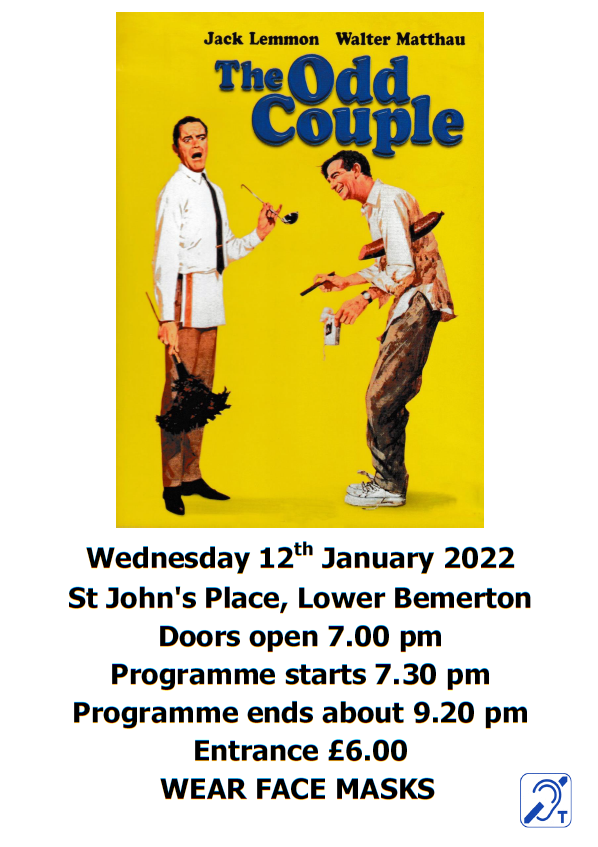 Wednesday 26th January
Salisbury Military History Society
7:30 – 9:30pm
The Bruneval Raid
Further details of the forthcoming Salisbury Military History programme and details of membership are on their website https://salisburymilhist.com/