WHAT'S ON AT ST JOHN'S PLACE
Book your community event or activity at SJP and we will advertise for you for free!!
Weekly events
Bemerton Live Fridays
Social coffee mornings with gentle exercise classes aimed at the over 55s, in the wonderful setting of St John's Place - try a new activity, meet new friends and stay mobile.
Doors open 10:30, class starts at 10:45. Everyone welcome. Coffee and biscuits after class.
Cost £5, first session is free, so why not give it a try?
Bemerton Live returns after the summer break on September 8th: the programme for September is given below and can be downloaded at this link.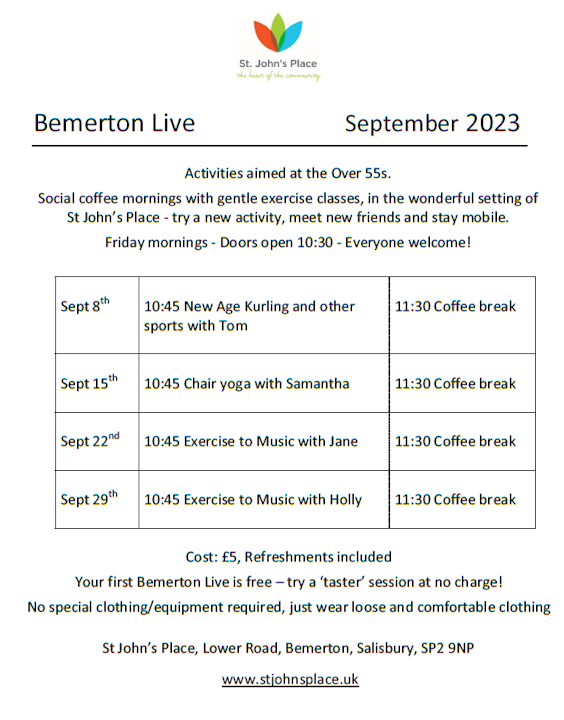 Monthly and one off Events
Sunday 10th September, doors open 7:00pm for 7:30 start
Ma Polaine's Great Decline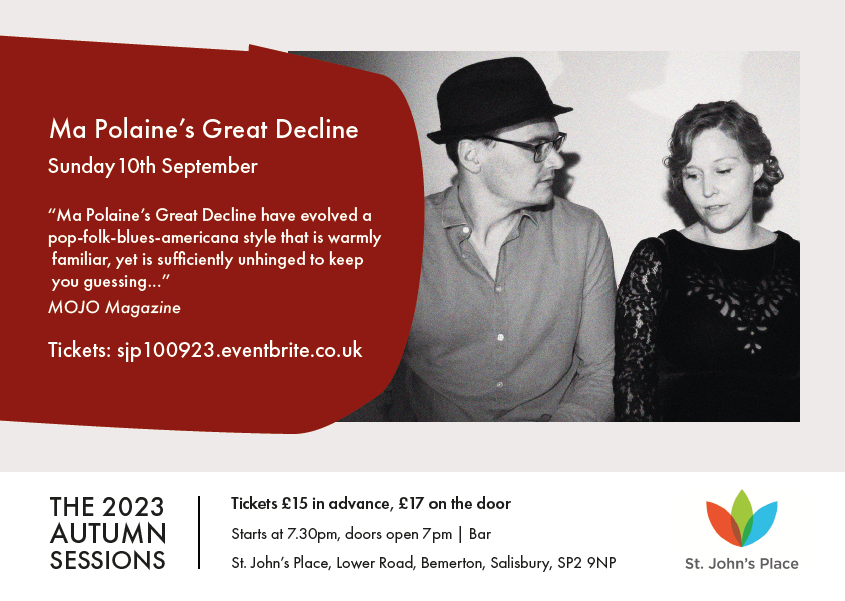 St John's Place are delighted to welcome Ma Polaine's Great Declne, a folk duo from Somerset, for the first of our trio of autumn folk concerts. As an established duo Ma Polaine's Great Decline have been making music for a number of years and to date have three albums and five EP releases to their name.
Tickets £15 in advance from https://sjp100923.eventbrite.co.uk, £17 on the door, subject to availability
Wednesday 13th September, doors open 7:00pm, programme starts 7:30pm
Bemerton Film Society
Jump Tomorrow
UK - 2001 - PG Certificate - 97 minutes
Romantic comedy.
When George, a shy and awkward introvert, meets Alicia, a stunning Latin girl, he is instantly smitten.
Unfortunately, George is due to marry a childhood friend from Nigeria in just four days' time. When Gerard, a boisterous and lovesick Frenchman stumbles into George's life, the stage is set for a gentle, humorous love story.
"Jump Tomorrow" is a road-movie that weaves reality and fantasy into a comic tale of the quirks and passions of modern romance.
Written and directed by Joel Hopkins
See the poster below, and further details about this film and the future programme are given in this flier.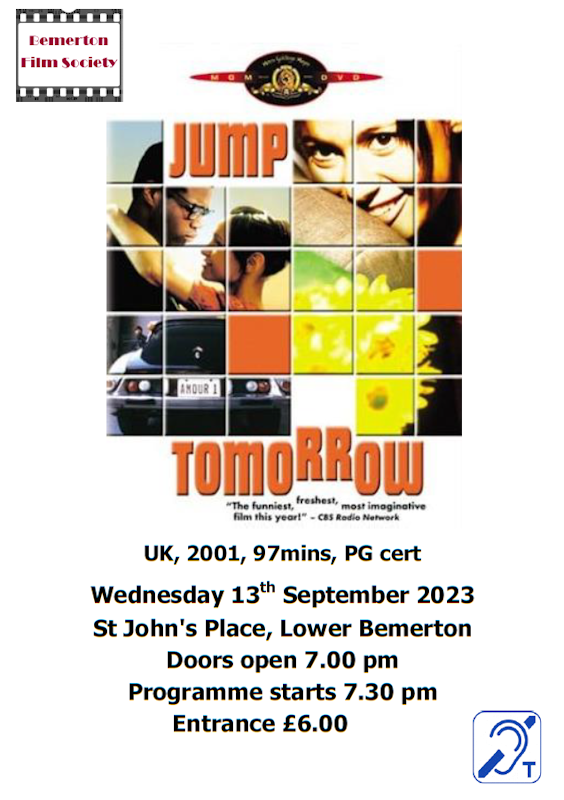 And coming up...
11 October Ninotchka (U certificate)
A stern Soviet woman travels to Paris to oversee the sale of jewels confiscated from a Russian noblewoman, only to fall in love with her polar opposite, in this delightful romantic comedy.
Help Bemerton Film Society choose the films to be shown in their forthcoming programme
The Film Society Committee have drawn up a list of possible films to be shown in 2023/24 and would welcome your thoughts on what you would like to see. Click on the button below to complete the form online and let us know your preferences. *** Deadline for responses extended to 8/9/2023 to give more time for responses after the summer holidays ***
Friday 15th September, 7:00 p.m. - 8:30 p.m.
Salisbury Dancers
Are you over 50 and missing some movement and music in life? Perhaps you still love to dance? Maybe you play your old tracks from your clubbing days from time to time? We are a mixed group of over 50s who like to dance freely in a no pressure environment enjoying the freedom of movement - we are not for profit; any profits go to charities; RSPCA, MacMillan, Friends of the Earth and Salisbury Hospice. See also the poster below.
Tickets are £5 in advance from fi@vitalimpact.co.uk or 07803 535431. For more information see the Facebook site.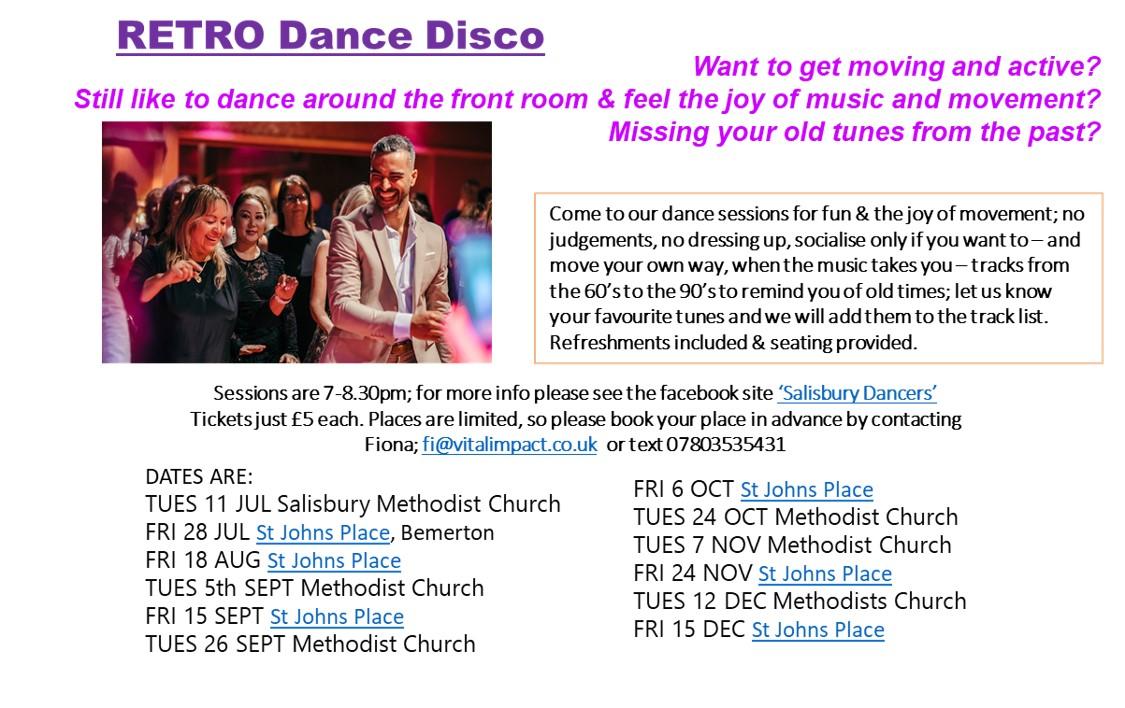 Sunday 17th September, 10am - 12 noon
The welcome return of Bemerton Brunch!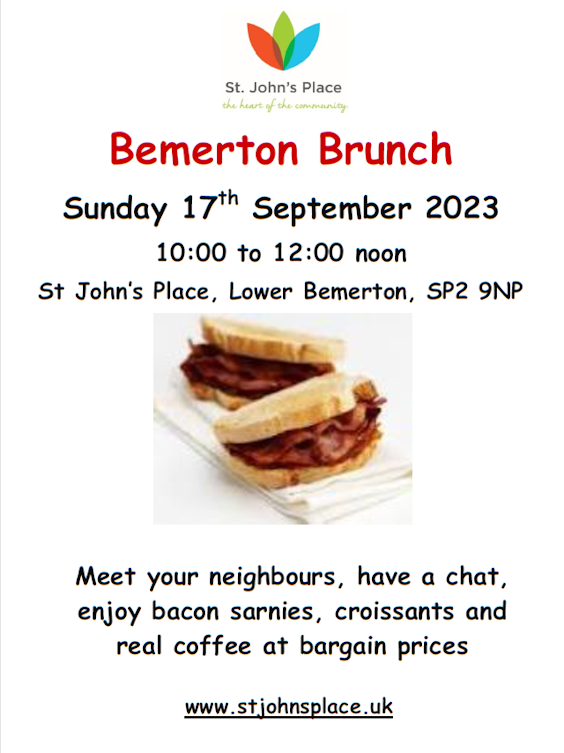 Wednesday 20th September, doors open 7:00pm, talk starts 7:30pm
Bemerton Talks
Further Bemerton Talks are planned as follows:
October 18th: Gary Price, clerk of works at Salisbury Cathedral
November 15th: A speaker from Wessex Archaeology
Wednesday 27th September, 7:30 p.m. - 9:30 p.m.
Salisbury Military History Society
Withdrawal from Aden
with Lt. Col. Ray Faull
See poster below. For more information about Salisbury Military History Society and forthcoming talks visit their website at https://salisburymilhist.com/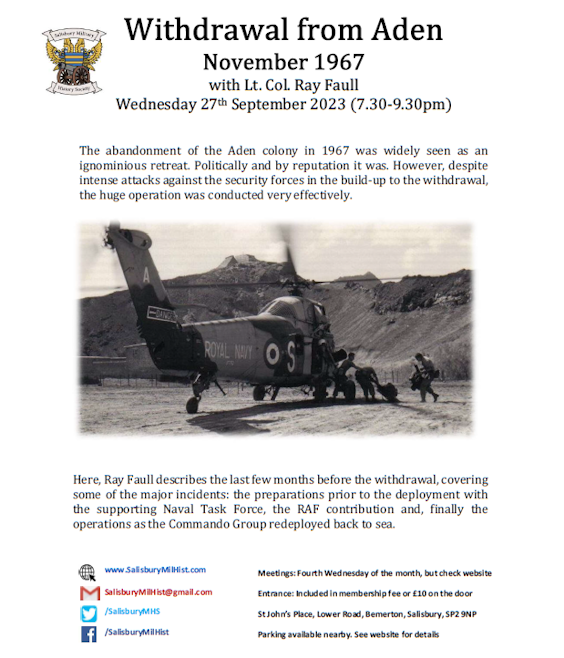 COMING UP: Two further folk concerts lined up for October and November - see details below